On 26 November 2009 the State Bank of Vietnam devalued the dong by about 5%.  This is the third instance of currency devaluation in two years.  The FRN$ is likewise being devalued against gold.
A few weeks ago I observed that those buying gold in Vietnam are paying a premium and that:
Gold is money and is reasserting itself as currency in Vietnam.  After 18 months of failed policies the helpless government has retreated from the import restrictions because the market is more powerful than governments.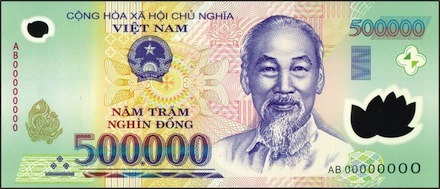 Bloomberg reported,
The State Bank of Vietnam set a dong reference rate for tomorrow that is 5.2 percent lower, at 17,961 per dollar, compared with 17,034 today, it said in a statement on its Web site. Policy makers narrowed the dong's daily trading band to 3 percent, from 5 percent, effective tomorrow, and increased the benchmark interest rate for the first time since January, to 8 percent.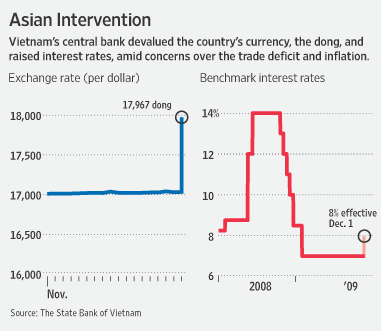 GOLD PARTY GETTING STARTED
As I observed on 9 September 2009 when the gold party was getting started, with the price at $995.75:
200 day relative price of gold is at 1.08x … Based on seasonal trends gold and silver will be strengthening, with the strongest months in September and November
This upleg in gold and silver will have significant strength because of the long period of consolidation just like in 2004 and 2006 which provided the foundation for the uplegs in 2005 and 2007 that took gold from $400 to $700 and $650 to $1,000, respectively.  If the current upleg is similar to the previous two then the 200 day relative prices for gold and silver at the top of this upleg would be about 1.5x and 1.7x, respectively.
This puts $1,300 gold and $25 silver within range without greatly exceeding previous trading norms
GOLD PARTY DUE FOR A BREAK
On 25 November 2009 Reuters reported:
Gold struck a record high for a second time this week, rising above $1,178 an ounce on Wednesday, as the dollar slipped and a newspaper reported that India was "open to buying" more gold from the International Monetary Fund.
Gold has jumped nearly 13 percent since the beginning of this month as investors poured money into the precious metal after India's central bank announced it had bought 200 tonnes of bullion from the IMF.
The current price of gold is about $1,175 per ounce with silver at $18.70.  Like I predicted November has been a strong month for both of the metals.  The 200dma for gold is $967.86 and $14.73 for silver.  This puts gold at 1.217x its 200dma and silver at 1.27x its 200dma.
WHAT AND WHEN TO BUY
Usually in a strong bull market silver will trail gold and then rapidly play catch up.  The vast majority of silver's gains happen in a relatively very short period of time.  If gold is like owning a cruise ship then silver is like owning a speed boat.
Because gold and silver have moved so quickly so fast, seasonality and the need for consolidation of these rapid gains therefore it is likely prudent to protect some gains while still maintaining exposure to the upside; for example, using put options.  While over halfway there from when I predicted; I still think $1,300 gold and $25 silver is within range but there will likely be some correction and consolidation between here and there.
Thus buying gold is not nearly as attractive as buying silver or even buying platinum which is up $340 per ounce since I recommended platinum about four months ago.  I am still extremely bullish on platinum and if acquiring a physical store of the precious metals and given an efficient and cost effective option, such as with GoldMoney, between platinum, gold or silver then I would recommend platinum.
SUPER DROOPY VIETNAM DONG WHEN PRICED IN GOLD
With the 5.2 percent devaluation against the FRN$ and with the FRN$ losing nearly 13% against gold in November alone and $358 or 43% over the last 12 months the only conclusion is that the Vietnam dong is taking a beating when priced in gold.  In other words, it has gone from 18.4M dong per ounce in January to a high of 28.85M or about 57%!
With Vietnam's widening trade deficit, the current account deficit, the demand for dollars and gold instead of droopy Vietnam dong, the global economic slowdown which will dampen exports (surely one of the reasons for the devaluation) and evaporating foreign exchange reserves therefore the monetary policy and condition of Vietnam will continue to erode which will place further pressure on the already droopy Vietnamese dong.
CONCLUSION
Vietnam is having a terrible time attempting to maintain their monetary policy.  Economic law is being applied and gold is playing its prominent role like it always does.  The government can resist but resistance is futile.
Likewise the FRN$ is evaporating before the just heat of gold.  Gold is nowhere near a bubble which is difficult to blow when when so much of the demand is fully paid for and not subject to margin call or default.
But the real bubble is the FRN$ and demand is showing the first significant hints of declining.  After all, it is becoming the carry-trade currency.  Americans with the monetary metals will be as fortunate as Vietnamese because all the barbarous relics of fiat currencies are evaporating.  The Great Credit Contraction has arrived and grinds on.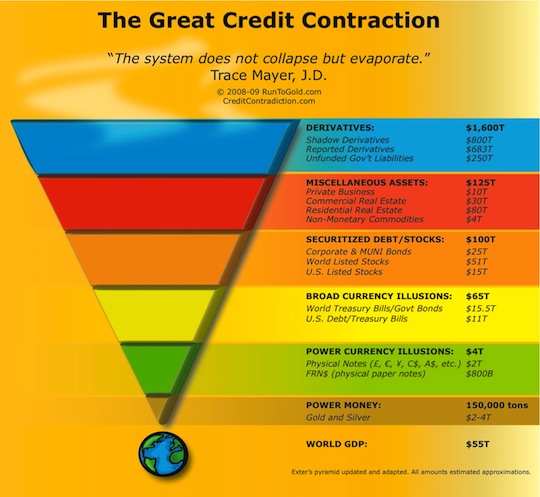 DISCLOSURES:  Long physical gold, silver, platinum and no position the problematic SLV or GLD ETFs.
Vietnam hotel online reservation,travel to vietnam Up to 75% Off - Vietnam hotel online reservation.Offers tours & best discount hotels from 1000++ hotels in Vietnam by TUN Travel.