HOW RUNTOGOLD STARTED
Many family, friends and acquaintances kept asking me about the financial and economic environment.  Being so interested I would talk their ears off.  After receiving many requests for a website I eventually relented and launched this hobby of RunToGold.com in January 2008.
During March I spent a month in South America flying over the majestic Andes, climbing on glaciers and touring real estate which even included riding horses around Casey's beautiful La Estancia de Cafayate.  So far the site has been completely a creature of my own making and I am learning new Interwebs skills which is fairly fun and challenging.
CAMBRIDGE HOUSE SPEAKING ENGAGEMENT
At an April conference in Washington DC I was asked to explain to Joe Martin, CEO of Cambridge House, my thoughts on a deflationary credit contraction.  He was impressed and invited me to speak at his premier investment conference in June which I accepted.  I will be presenting again for Cambridge House in Vancouver, BC, Canada on January 25-26.  Some of you may be interested and there is great skiing available at Whistler.
TRAFFIC GETS STEADY
During May the traffic was still rarely single digits of daily unique visitors but after the Cambridge House presentation there was never again a single digit day.

 At the conference I spent some time talking with David Morgan of silver-investor.com and he later put a link so that may be a contributing reason as to why the traffic has picked up.  In mid-September I implemented the free FeedBurner email/RSS feed.  My initial modest goal was to have 100 subscribers by the end of the year.
WEBSITE UPGRADE
I had several readers who would constantly remind me over lunch that my website was fairly clunky, ugly and hard to navigate.  I already knew that but did not know how to make it better.  I spent quite a bit of time researching and eventually decided on making some modifications.
In mid-November with a lot of caution and trepidation switched hosting companies, software publishing and other technical changes.  Surprisingly the switch went fairly smoothly without many technical problems besides broken links because of a new hyperlink structure.  I received lots of compliments on the new site.
The new website and software makes content portability much easier as it separates content from design.  This has made a big difference as articles, pictures, etc. are all emailed out instead of only portions of the articles.  I started experimenting with other technical features and have added things like 'related posts' and the ability to search, save or share content.  Overall I think the website is a much easier resource to navigate for you my readers.  If I have one request it is to please spread it around on your own blogs, message boards, forums, email it to friends, etc.
DECEMBER STATISTICS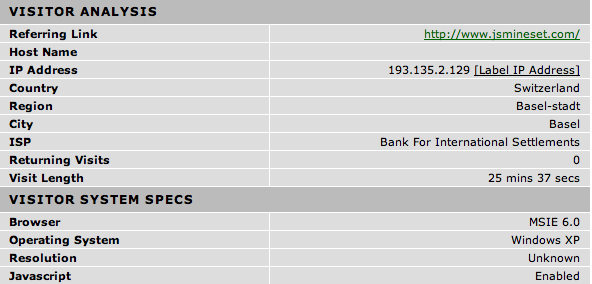 December finished with an average of about 1,025 daily unique visitors.  The FeedBurner list has exploded to about 700 far exceeding my goal of 100.  Readers gobbled up about 20GB of bandwidth.  There have been tens of thousands of unique visitors in 2008.  I am quite surprised at the growth for my hobby.

 I do wonder why certain visitors are snooping around such as this person from the Bank for International Settlements that spent about half an hour on the site.  Hope they learned something.
Fortunately, affiliate links to Amazon for books, Earth Class Mail or GelaSkins, etc. have covered the costs of the site so it is not a money pit like my other hobbies.  I realize the Internet is full, or at least our capacity to consume, so I am glad readership is picking up and I suppose the site fills a void with good content that is not available elsewhere.
2009 OUTLOOK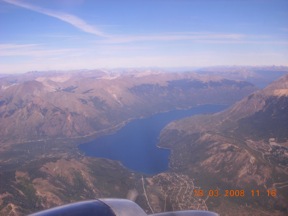 I suppose 2009 will be an interesting year.  I think the financial crisis is barely getting started so there should be plenty to write about.  There are a lot of interesting developments happening so 2009 will be a year of change.
Back in June after gold swooned by 20% a friend was teasing me and asked  how my gold was doing.  I curtly replied, 'It is still there.'  

With the evaporation of such venerable firms or assets like Auction Rate Securities, Bear Stearns, Lehman Brothers, the krona, etc. that is about the only promise gold has; that it will still be there standing as a beacon of hope after everything else has evaporated.
Sometime I intend to return back to South America for steak, legendary Mamuschka chocolates from Bariloche and to glide atop the Andes.  A nice aspect of the Internet is the ability to publish articles from anywhere.
Many readers have asked me several questions that are beyond the scope of what I am willing to provide.  Therefore, I have considered additional guest authors for some of these topics.  I have talked with a couple friends such as an estate planning attorney, an MBA in Finance who worked for the Federal Reserve and a CPA with a big four accounting firm focused mainly on REIT taxation.
SUGGESTIONS
What topics are you interested in for articles?  Are you interested in having contributions from additional guest authors?  Please leave some comments with your suggestions and to let me know what you want.  For now I am getting ready to attend the Chairmen's Club Dinner (nice to see what the TARP bailout money is being spent on) and Gator Bowl.  Go Cornhuskers!
Happy New Year!