According to Wikipedia "A Youngling that successfully completes their respective level of training undergoes Padawan apprentice training under the tutelage of a Jedi Knight or Jedi Master. In a rite of passage, Padawans must build their own lightsabers as a final test."
While in Minnesota about six months ago I was approached about tutoring a high school senior with his thesis for an Advanced Placement class.  He desired to write his 10,000 word thesis on monetary policy and needed a mentor.  Usually the mentors had to be local so that the students could discuss the projects.  An exception was made and I found myself with a young Padawan, William Simpson.
After months of work and collaboration his paper was ready to be presented.  The thesis defense would be judged by six teachers and questions could be posed by the audience.  

Mr. Simpson's objective portion was delivered very well and I am slightly envious of not having his speech training by that age.  His thesis defense was even covered by the local newspaper.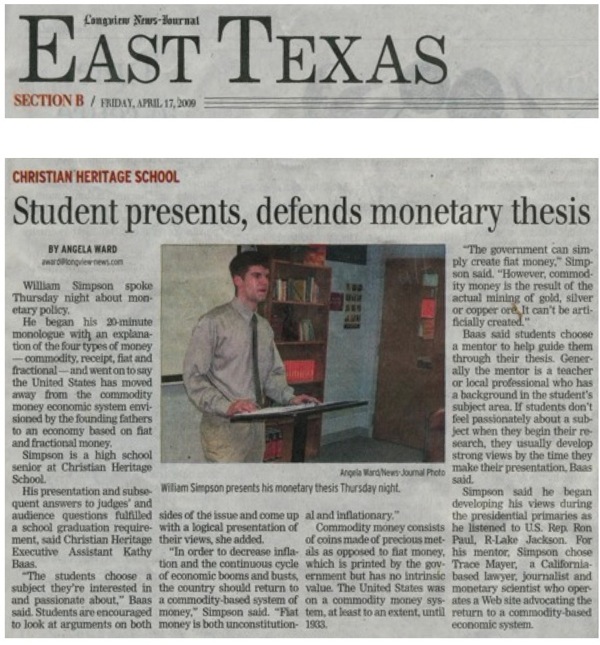 But then came the persuasive portion of his defense where he laid out the case arguing in favor of a constitutional commodity monetary system, abolishment of the Federal Reserve and free banking.  He delivered it with great eloquence and many in the room began to see the power of his assertions as the cause of our current financial and economic problems.
Dr. Edwin Vieira, J.D. is the preeminent monetary jurisprudence scholar in the nation and author of the venerable treatise Pieces of Eight and I am one of his intellectual Padawans.  About 18 months ago I had breakfast with Dr. Vieira in Washington DC and then listened to his speech.  He made a statement with such power it has stuck with me to this day which I passed on to Mr. Simpson.
As Mr. Simpson came to the conclusion of his defense he masterfully delivered a line to his Keynesian economics teacher:  "Gold and silver are not mere barbaric commodities but essential checks and balances in America's political machinery."  At that moment many in the crowd realized the role sound money plays.
Decades ago Ludwig von Mises wrote in The Theory of Money and Credit, "It is impossible to grasp the meaning of the idea of sound money if one does not realize that it was devised as an instrument for the protection of civil liberties against despotic inroads on the part of governments.  Ideologically it belongs in the same class with political constitutions and bills of rights."
This is because sound money protects against confiscation through inflation which is a form of taxation without representation or due process of law.  With the Federal Reserve engaged in quantitative easing is it any wonder that tea parties are springing up everywhere?  Here is a picture from a tea party I attended with William's father on the way to their house from the airport.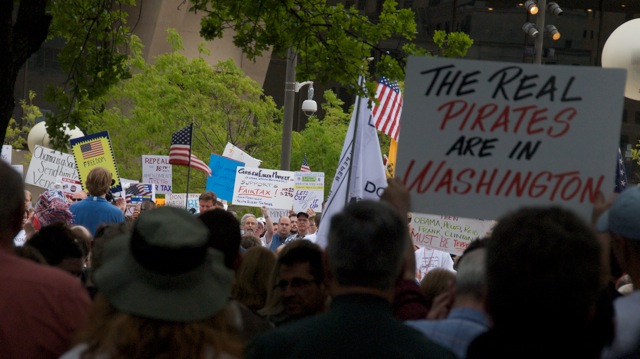 After William's presentation then it was time for questions and answers from his teachers and the crowd.  He deftly handled them all.  Then we returned to his home for some refreshments, socializing and tutelage by another monetary scholar, Wayne Paul the brother of Dr. Ron Paul.  Mr. Wayne Paul, a CPA, is involved in the Kahre case which I would recommend everyone to become familiar with as the issues square on the nature of America's dual monetary system.
Gold loves the truth and fiat currency loves lies like mark to market accounting.  Indeed, ideas can only be overcome by other ideas while power and force are impotent against them.  

During the darkest of nights Dr. Vieira has carried the torch and while gold's monetary function and political role may be forgotten to the majority of humanity, which is the chief cause of the world becoming such a dangerous place, a young Padawan has been diligently fashioning and learning how to wield his lightsaber.  Truth will cleave its own way and the golden sun is rising in the east.
HR 1207 IN COMMITTEE
The Federal Reserve has not been audited in over 50 years.  HR 1207, introduced by Dr. Ron Paul with over 55 co-sponsors, will require an audit of the Federal Reserve.  In a major development the bill will now go to the House Committee on Financial Services.  Then it will be debated and voted upon in the Committee.  Afterwards, it will then either go to the House for a debate and vote or will be defeated.
I recommend contacting your representatives to show your support for or opposition against HR 1207.  The Congressional Switchboard number is 1-877-851-6437.  Of particular focus should be the members of the House Financial Services Committee (E-Mail Committee Blast).