</p>
KAZAKHSTAN CURRENCY
</strong>
As the deflationary credit contraction intensifies another victim has been claimed.  The central bank for the ninth largest country in the world, Kazakhstan, devalued the Tenge, the khazakstan currency, by 18%.  This comes shortly after the conflict in Georiga over the Baku-Tbilisi-Ceyhan (BTC) caspian oil pipeline maps.
In other words, on Tuesday 3 February 2009 it took 109,759 tenge to purchase one ounce of gold.  On Thursday 5 February 2009 it took 123,346.  This is how fast currency events like hyperinflation hit and the Kazakhstan currency is no exception.


</p>
CASPIAN OIL PIPELINE MAPS
</strong>
Every asset in Kazakhstan just took a huge hit because of the Kazakhstan currency devaluation.  For example, real estate earning potential in gold ounces just declined precipitously.

 Just look at the caspian oil pipeline maps to see that Kazakhstan is well endowed with natural resources, like oil and natural gas, and bordering the Caspian Sea the current decline in commodity prices has greatly affected the Kazakhstan economy.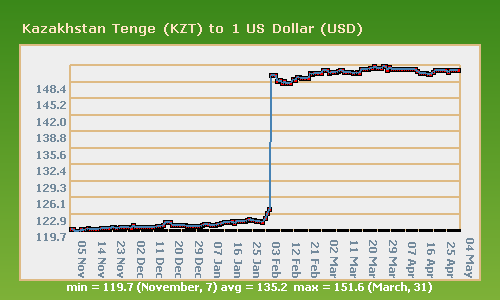 Putin has expressed extreme displeasure with Wall Street.  With political changes Kazakhstan may further align itself with Russia putting further pressure on the Kazakhstan currency.  

The recent conflict with the Baku-Tbilisi-Ceyhan caspian oil pipeline through Georgia, also on the Caspian Sea, shows the extreme importance of this area of the world and the potential for resource wars.

As Vladimir Putin said (7:32), "I was in Beijing at the time.  I looked through the world electronic media.  Complete silence.  As if absolutely nothing is going on.  It was as if somebody ordered everyone to keep their mouth shut.  To those who organized all this; I can only say congratulations.  Congratulations.  You did an excellent job.  The only problem:  your results were poor and this will always be the case because the work you do is unfair and immoral.  In the long run immoral policies always lose."



</p>
FACT STRANGER THAN FICTION
</strong>
Movies and video games are fantasy.  Ghost Recon is a fantasy video game released in 2001.  As many of you may be aware the fictional script in Ghost Recon, a video game released in 2001, became present fact in August in Georgia along with 1,000 US Marines who have been there since July 15th.  I wonder what other Tom Clancy fiction will become reality?



</p>
CASPIAN OIL PIPELINE MAPS
</strong>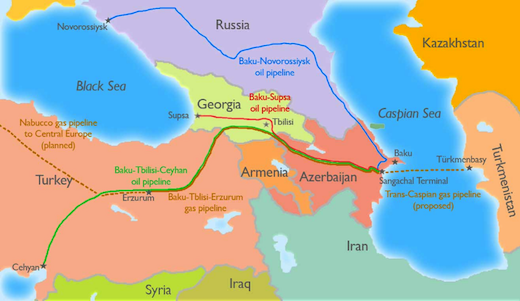 The 1,099 mile Baku-Tbilisi-Ceyhan crude oil pipeline from the Azeri-Chirag-Guneshli oil field in the Caspian Sea to the Mediterranean should begin transporting in 2009 with an initial transportation of 1 million barrels a day, about 1% of worldwide production, with a capacity of 10 million barrels a day.

What is really going on with the caspian oil pipeline maps?  President Saakashvili of Georgia is annoyed with some peaceful secessionists who left Georgia in 1991.  He has had enough fun rounding up and charging his political opponents, like Shalva Natelashvili or Konstantin Gamsakhurdia, with espionage and using the police to beat street demonstrators.

Russia, as neighbors with many citizens in Ossetia, has been defending the secessionists from the Lincolnesque Saakashvili while the United States has been arming and training the Georgians for almost a decade.  Georgia is firmly aligned with the neo-cons and their policy.  Meanwhile the Kazakhstan currency evaporates.



</p>
CONCLUSION
</strong>
Therefore, Russia is attempting to increase their relative power over the natural resources of the Caspian Sea and are using the caspian oil pipeline maps to play their strategy.  It appears the United States will not tolerate a challenge to their dominance.  Plus, this is a convenient counterattack proxy for Putin's diplomatic interference on Iran's behalf.  The resource wars are heating up.



</p>
GOLD AND SILVER PROTECTION
</strong>
Individuals who had significant amounts of capital, like their retirements, in the local Kazakhstan currency may never recover.  There are alternatives where one can prepare for these types of events, like GoldMoney, for cash balances or if you want to learn where and how to buy gold or silver.

For example, instead of holding the Kazakhstan currency, tenges, one could hold gold coins, silver or national currencies (USD, CAD, GBP, EUR, JPY or CHF) in their holding and when local currency is needed, sell their gold or silver bullion and wire the funds to a domestic bank.  The use of credit cards would allow one to become the counter-party risk.  Holding the bullion one would remain liquid and immune to a massive currency devaluation and banking crisis which is also affecting Kazakhstan.  When this happens to the FRN$ it will be very interesting.