My article A Problem with GLD and SLV ETFs was published on Seeking Alpha.  It was picked up by GATA, the big daddy elephant Jim Sinclair along with many other luminaries in the gold industry.  Fortunately, the website host had no problems with the increased traffic.  Additionally, there are quite a few new subscribers to the free email updates.  I suppose it would be courteous to welcome them.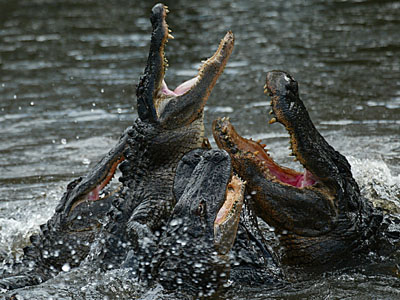 Readers are somewhat like alligators that prowl around looking to be fed.  Both Gold in Backwardation and A Problem with GLD and SLV ETFs along with many other articles have been answers to user submitted questions.

 There are forms throughout the site including in the About section.  Please let me know what type of food you want.  Bankers do not count.  I have performed significant amounts of original research and work and many of the topics have been suggested by loyal readers.

 Some tasty articles include The First Snowfall of the Kondratieff Winter and Gold Privacy and Constitutional Rights.  I am currently working on some extremely interesting articles which are about to be tossed into the middle of the frenzy.
On that note, I have had many inquiries about the Canadian CEF.  I have not done much research on this vehicle and do not currently have an opinion.  I will put it in the queue.  However, after reading through the GLD (43 pages!) and SLV prospectuses I can understand why you may want to shy away from doing it yourself.

 Having read or drafted thousands of pages of legal documents I must say that the only thing worse than reading these complex legal documents is drafting them!
While I cannot guarantee I will answer your questions, let alone a time frame, I do welcome them and should I see a pattern among them I will research the topic to develop and articulate an informed opinion.  Hopefully this will result in an actionable article for you.
On another note, the new MiFi looks like an extremely useful device for anyone who travels a lot.  Here is a pictorial update on the civil unrest in Greece I wrote about Dec. 11, 2008.  I thought LA would be the first city to break out in major riots as a result of the economic turmoil.  Who would have thought it would be Athens?  An estimated $1.5B in damage has been caused so far.